Description
Honeywell THX9421R5021WW 2 Wire IAQ High Definition Touch Screen Thermostat with Red Link Technology, White is ideal for commercial and residential users because of its Built-in Modes, Multi-Stage Heating & Cooling Sensors, & Colored Touchscreen Display.
Honeywell THX9421R5021WW Thermostat's most attractive aspects are its 2 wire HD colored touch screen, 7-day programmable technology, 4 stages of heat, and 2 stages of cool Control functionality. It works with the Equipment Interface Module and RedLINK® accessories. Further, it is feature-rich with RedLINK® Internet Gateway compatibility, Portable Comfort Control, and Wireless Outdoor Indoor Sensors.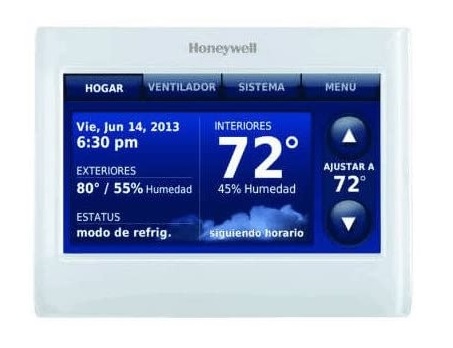 ---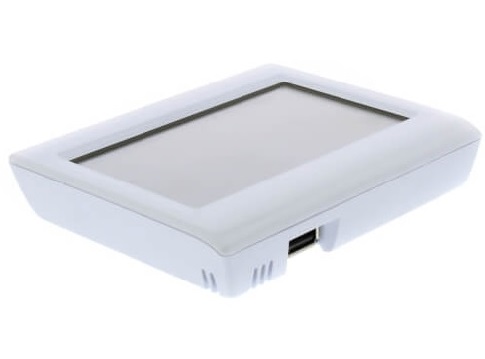 Our Take on the Honeywell THX9421R5021WW 2 Wire IAQ High Definition Touch Screen Thermostat with Red Link Technology, White:
It comes with a built-in Smart Schedule feature that can be programmed for any lifestyle in no time. It is ideal for residential and light commercial use. It even meets the commercial code and is title 24 compliant. Its Delta T Alerts and Diagnostics keep the customers informed about the system's malfunctions and provide instructions on contacting the dealer.
---
It comes with a USB port for transferring the customized thermostat settings for safe-keeping and later reinstallation. Further, it provides 3 assignable outputs for controlling humidification, heating, or cooling. Also, you can extend the wireless range by using a THM4000R1000 Wireless Adapter.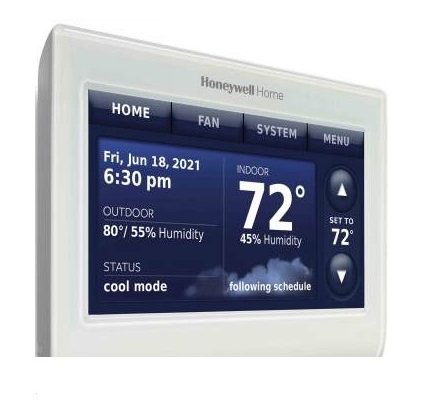 ---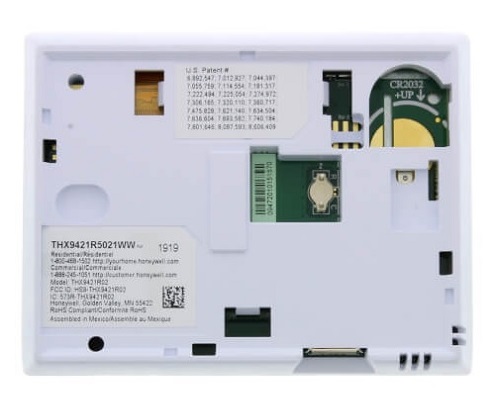 It also keeps a searchable record of previous alerts and setting changes to distinguish between a new system malfunction and an issue due to a user error. This is a great time-saving feature because less troubleshooting is required. Further, it also has a built-in customizable service reminders feature that ensures that customers make a timely call for service for expiring warranties and other user-specific alerts.
TOP 10 KEY FEATURES:
| | |
| --- | --- |
| Application: | Heat Pump, Multi-Stage (Heat/Cool) |
| Stages: | 3 Heat/2 Cool & 4 Heat/2 Cool Heat Pump |
| User Interface: | Touchscreen |
| Internal Memory: | 16 GB |
| Programmability: | 7 Day Programmable |
| Weight: | 13.7 oz / 388 g |
| Display Size: | 8.06 sq in |
| Setting Temperature Range: | Heat: 40 F to 90 F; Cool 50 F to 99F |
| Humidification Setting Range: | Cooling: 40 to 80% RH. Heating: 10 to 60% RH. |
| Supply Voltage: | 18 to 30 Vac |
Included in the box:
Honeywell THX9421R5021WW Redlink Prestige IAQ Color Touchscreen Thermostat
Payment & Security
Your payment information is processed securely. We do not store credit card details nor have access to your credit card information.
Honeywell THX9421R5021WW 2 Wire IAQ High Definition Touch Screen Thermostat with Red LINK Technology, White