Description
Canon EOS Shoulder Bag 200ES (Black) to carry one DSLR along with 1-2 lenses plus accessories, made with water-repellant nylon material, and having internal compartments
Canon EOS Shoulder Bag 200ES is a compact bag to store and carry your DSLR camera. The items will be safe and protected in the soft interior, along with your lenses and other accessories. The easy-to-carry bag is made of water-repellant Nylon material and can be divided into compartments easily to keep the camera and other items separately and safely.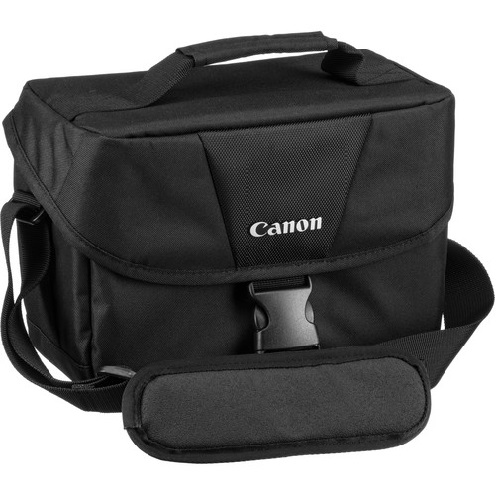 ---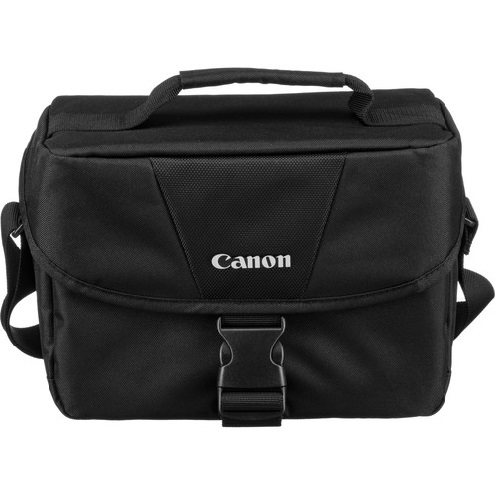 Our Take on Canon EOS Shoulder Bag 200ES (Black)
Canon EOS Shoulder Bag 200ES can be a good travel companion for you. It is made of water-resistant Nylon material. So you do not need to worry if you want to carry it when it is drizzling or you are moving around in a damp atmosphere. The bag is spacious enough to carry your DSLR along with one or two lenses and accessories. The items can be separately and securely placed in the bag by dividing its interior into differeet compartments. The bag can be used either to store the items or when you want to carry them safely when you travel. It can be easily fastened using a quick-release buckle with a large weather flap.
---
The interior is compartmentalized as per your space requirements using a padded divider. It works with touch fastening so that you don't have to face any hassle when you want to separate the interior into different parts to carry your gear. One of the design considerations in the interior is that it is given a light greay color. This is a very advantageous feature as it helps to distinguish between the different items in your photgraphic gear easily even in dim light. The total size of the interior is 9 inch x 7 inch x 4.5 inch and the bag weighs less than 1 lb.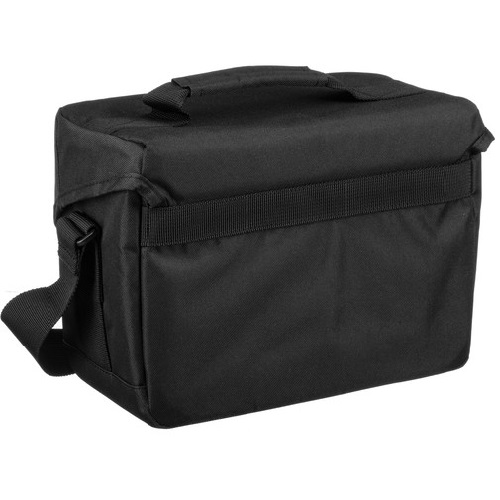 ---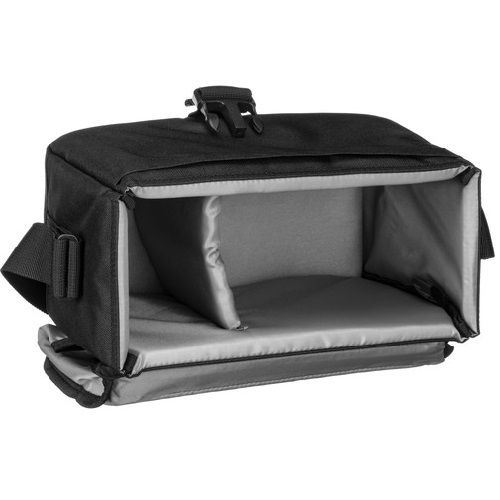 The bag is a good protection for your gear from the elements. Once you have placed the gear inside it and fastened it using the buckle, you have two options to carry it. There is a handle at the top which can be used if you want to carry the bag in your hand. Else, you can use the shoulder strap, which is 1.5" wide, provided to carry it over your shoulder. The shoulder has a pad to provide cushioning effect on your shoulder so you don't need to feel any discomfort. The pad can slide if you want to adjust the position, and it is also of non-slip type so that once you fix it at a position, it will not slide easily to a different position.
TOP 10 KEY FEATURES:
| | |
| --- | --- |
| Material: | Nylon |
| Water-resistant: | Yes |
| Closure Type: | Buckle |
| Carrying options: | Shoulder strap, handle |
| Internal dimensions: | 10" x 7" x 4.5" |
| Capacity: | Holds 1 DSLR + 1-2 lenses + accessories |
| Color: | Black |
| Shoulder strap pad: | Yes |
| Compartment division: | Touch fastening |
| Interior color: | Light grey |
Included in the box:
Canon EOS Shoulder Bag 200ES (Black)
Padded Divider
Payment & Security
Your payment information is processed securely. We do not store credit card details nor have access to your credit card information.
Canon 200ES EOS DSLR Camera Gadget Bag