Description
The Canon CN-E 24mm T1.5 L F Cinema Prime Lens (EF Mount) can help you make your next cinema masterpiece with extreme ease. Its compatible dimensions make swapping with other CN-E lenses a cakewalk!
If you are a fan of precise and consistently focused pictures, then the Canon CN-E 24mm T1.5 L F Cinema Prime Lens is just the right one for you. It is a manual focus prime lens and strives to deliver the finest shot. Among the noteworthy features is that it minimizes the focus-breathing virtually to zero. All in all, it's a real travel-friendly lens, and the build of the lens is exactly like the rest of the CN-E models. The unit is also quite symmetrical in shape. Lens swaps with it are a cakewalk which makes it stand out!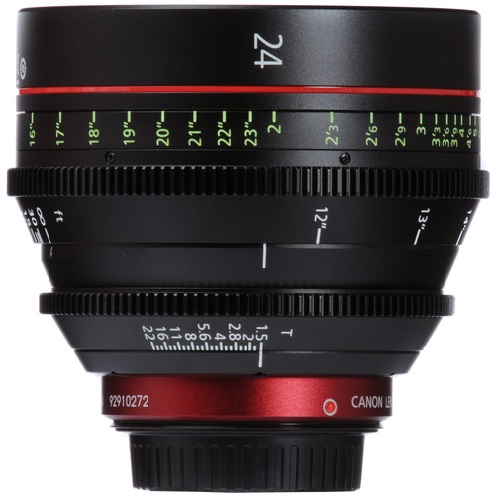 ---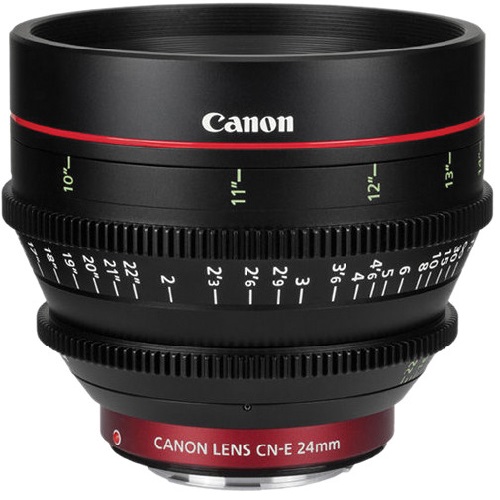 Our Take on the Canon CN-E 24mm T1.5 L F Cinema Prime Lens:
The Canon CN-E 24mm T1.5 L F Cinema Prime Lens strives to deliver the finest of image quality, contrast, and color balance possible. It doesn't matter whether you are shooting in HD with a Canon EOS DSLR or in 4K using an EOS C500 Digital Cinema Camera. It is the master of creating a cinematic masterpiece, no matter which Cinema EOS Camera model it is! There are electronic contacts provided on both the lens and the camera sides that allow direct communication. As a result, one can view the T-numbers in the viewfinder!
---
The Canon CN-E 24mm T1.5 L F Cinema Prime Lens is best suited for working professionals as it excels in all the required fields for a perfect cinematic shot. The Cinema Prime lens has markings on both the angled surfaces of the barrel, which makes it easy to read the focus and aperture settings from either side and even from behind it. If these features weren't enough of a reason for how good this lens is, it also has focus markings that can be switched from standard labeling to metric in seconds. It also has control rings that ensure a balanced amount of resistance with continuous operating torque.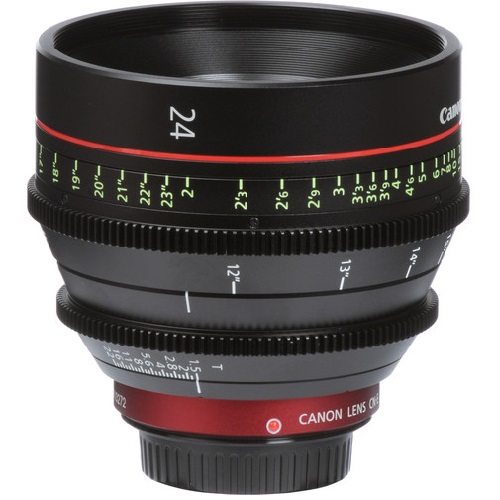 ---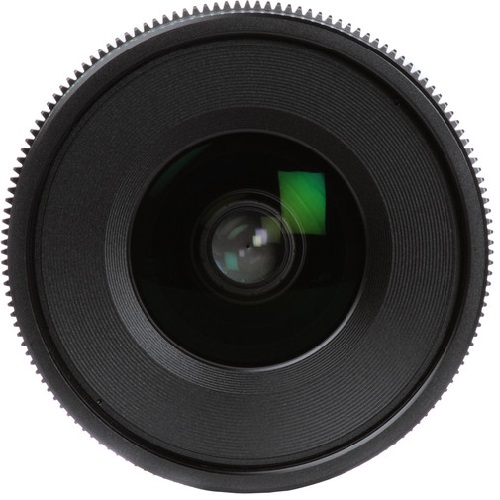 The Canon CN-E 24mm T1.5 L F Cinema Prime Lens is a compactly designed and lightweight lens that features a full-frame imaging circle. It is versatile in a way that it can work with a large number of applications! The CN-E 24mm shares the same 114m front barrel diameter, focus rotation, 36-degree iris rotation, and iris gear positions, as the other five CN-E lenses that make the swapping of the lens as easy as one could ask for! Lastly, it is one of the best and most affordable buys out there.
TOP 10 KEY FEATURES:
| | |
| --- | --- |
| Focal Length: | 24 mm |
| Lens Mount: | Canon EF |
| Format: | Full Frame |
| Maximum T-Stop: | T1.5 |
| Iris Blades: | 11 |
| Front Diameter: | 114 mm |
| Diagonal Angle of View: | Super35: 90.8° |
| Minimum Focus Distance: | 12" (31 cm) |
| Lens Swap: | Possible with other CN-E lenses |
| Fous marking unit: | Standard and Metric unit markings |
Included in the box:
Canon Cinema Prime Lens - CN-E 24mm T1.5
Lens Cap
Rear Lens Cap
Payment & Security
Your payment information is processed securely. We do not store credit card details nor have access to your credit card information.
Canon CN-E 24mm T1.5 L F Cine Lens 6569B001 (EF Mount)