Description
The Canon EF 24-70mm f/2.8L II USM lens unit comes with a sophisticated optical design that includes two UD elements and one super UD element, among other features. It acts as a workhorse for professional photographers!
It has been a while since Canon EF 24-70mm f/2.8L II USM got launched as an upgrade to the more vulnerable Canon EF 24-70mm f/2.8L. Canon "L" series lenses are known for premium-quality parts inside and out. The lens consists of durable and high-grade materials that make it ideal for regular and professional use. Canon f/2.8L II USM delivers an improved imaging performance and reduced distortion from its predecessor. It outshines in terms of both AF accuracy and image quality perspectives.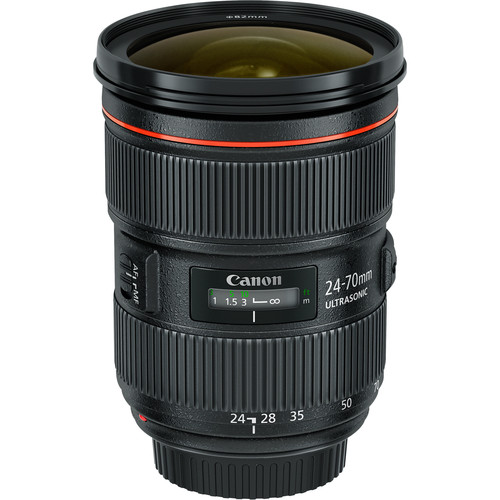 ---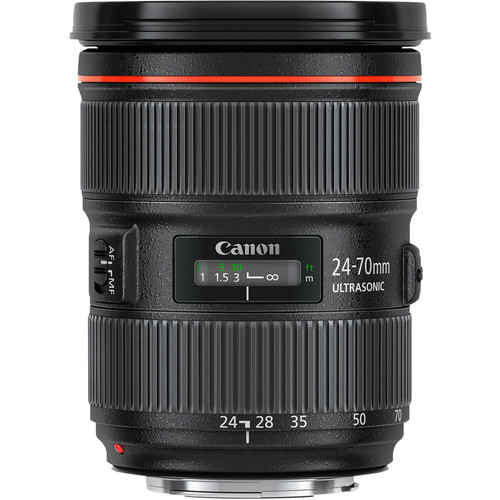 Our Take on the Canon EF 24-70mm f/2.8L II USM Lens:
The visual design of Canon f/2.8L II USM is characterized by three aspherical designs with reduced distortion, color blur, and color fringing respectively. It offers incredible operability and incorporates a zoom ring, a focusing ring, and a zoom ring lever that prevents the zoom ring from accidental movements. The lens features a ring-type autofocus motor that lets you focus effortlessly, silently, and with precision. Likewise, it offers a full-time override manual focus control. It helps you override to adjust the focus, ensuring that it should be for creative control. In the case of auto-focusing, Canon EF 24-70mm f/2.8L II USM is a rapid performer and takes about 0.15 seconds to lock onto the subject. It has a minimum focus of 38cm from the sensor plane, making it ideal for shooting close-ups.
---
Canon EF 24-70mm f/2.8L II USM incorporates reductions in chromatic aberrations across the focal range. And the unit combines two aspherical lenses to reduce spherical aberrations. Improvements have been made in the telephoto range to correct general distortions. Vignetting and saturated colors are the trademarks of Canon EF 24-70mm f/2.8L II USM. These two features combine to produce a precise and sharp image. The images are somewhat punchy, with high contrast and vignetting at f/2.8 that's extendable to f/4. The Canon EF 24-70mm f/2.8L II USM sets a standard for the next-generation lenses or what we should expect from Canon "L" series.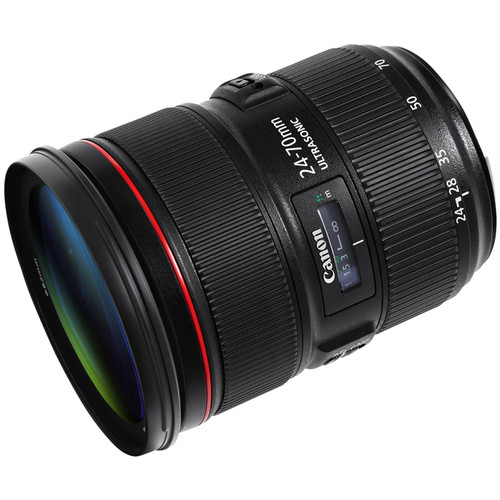 ---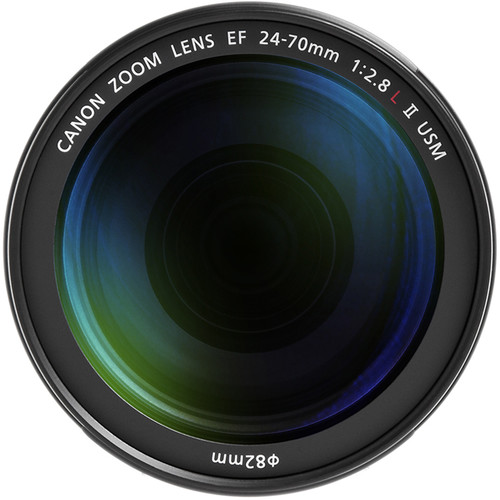 You will find an immobile ring with a red dot that makes camera alignment easier. There is a 28 mm zoom ring that remains covered by an O-ring seal. The rubber ribs protect the lens against moisture and dust. There are focal length markings at 2.4, 2.8, 3.5, 5.0, and 7.0 mm. The front and rear parts of the Canon EF 24-70mm f/2.8L II USM lens include a fluorine coating that makes it easy to clean. This lens weighs 0.80 Kgs (1.77 lbs.) and measures 11.3 cm in length.
TOP 10 KEY FEATURES:
| | |
| --- | --- |
| Focal Length: | 24 to 70mm |
| Maximum Aperture: | f/2.8 |
| Minimum Aperture: | f/22 |
| Lens Mount: | Canon EF |
| Format Compatibility: | Full-Frame |
| Optical design: | 18 elements in 13 groups |
| Angle of View: | 84° to 34° |
| Minimum Focus Distance: | 1.25' / 38 cm |
| Maximum Magnification: | 0.21x |
| Focus Type: | Autofocus |
Included in the box:
Canon EF 24-70mm f/2.8L II USM Lens
Canon E-82 II 82mm Lens Cap
Canon Lens Dust Cap E (Rear Lens Cap)
Canon LP1219 Soft Lens Case
EW-88C Tulip Lens Hood for EF 24-70mm f/2.8L II USM Lens
Payment & Security
Your payment information is processed securely. We do not store credit card details nor have access to your credit card information.
Canon EF 24-70mm f/2.8L II USM Standard Zoom Lens