Description
Canon EF 75-300mm f/4-5.6 III Lens is an ideal choice for various applications including sports shooting. Some of its features include an Aperture Range of f/4 to f/45, Super Spectra Coating, DC Micro Motor AF System, 7-Blade Diaphragm, among others.
Its bright f/4 to 5.6 aperture range guarantees flawless operations in areas with poor lighting conditions. You will like its unique optics design making it possible for you to take shots of high clarity and sharpness at all times. A Super Spectra coating has also been applied for perfect suppression of flare and ghosting. Hence, you can experience enhanced color accuracy and contrast when operating in areas with poor lighting conditions. It features a DC micro motor autofocus system, which delivers fast continuous photographing speeds.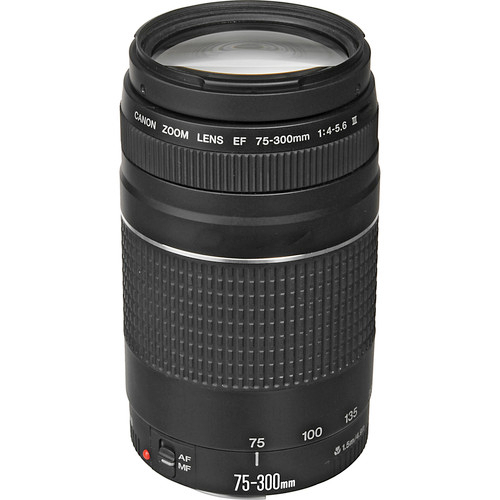 ---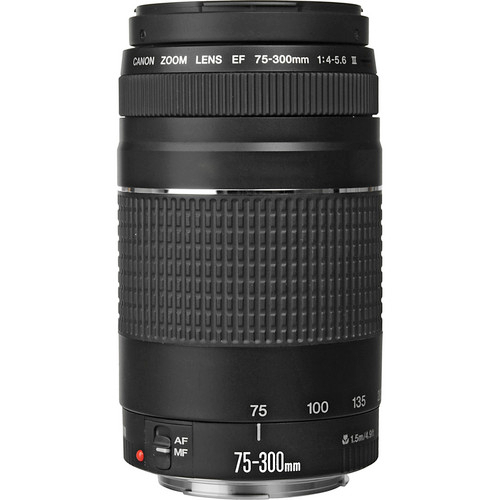 Our Take on the Canon EF 75-300mm f/4-5.6 III Lens:
The Canon EF 75-300mm f/4-5.6 III Lens is specially designed for full-frame Canon EF-mount DSLR cameras, and APS-C models can use it with an equivalent focal length range of 120 to 480 millimeters. It features a seven-blade diaphragm, which helps in enhancing selective focus technique as well as the use of shallow depth of field. That is why this lens is the perfect choice for professional and amateur photographers who want to stay on top of their games.
---
Besides, its maximum aperture stands at f/4 to f/5.6 while its minimum aperture ranges between f/32 and f/45, and that is why it is one of the most coveted lenses in the market right now. With its focal length range standing at 75 to 300 millimeters, you can be certain of capturing images the way you want them. Its angle of view ranges between 32° 11' and 8° 15' making it possible for you to get your shots right at all times. Its minimum focus distance is 4.92 feet or 1.5 meters, which guarantees effective coverage of your subjects. This lens has a maximum magnification of 0.25x so that you can get the perfect view of your subjects.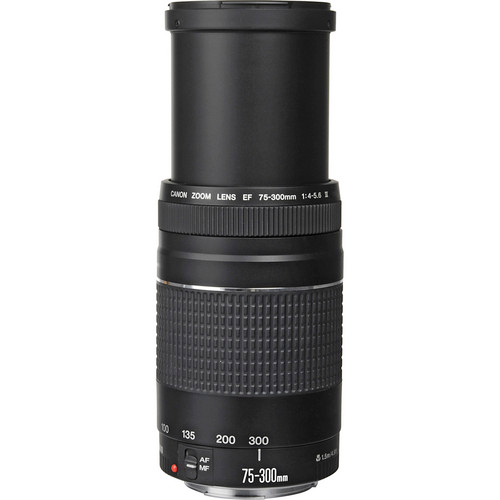 ---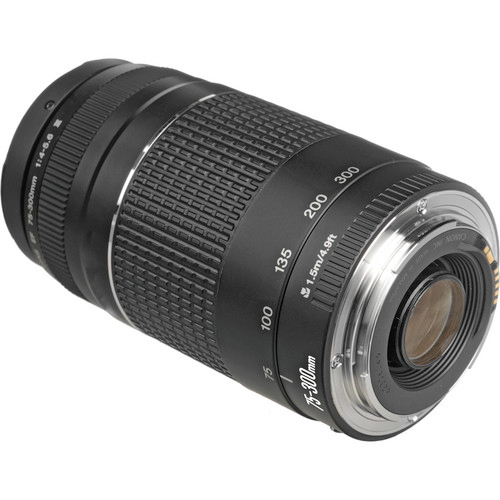 Also, its optical design features 13 elements in 9 groups so that you won't have issues taking the best shots. Its focus type is autofocus while its frontal filter size is 58 millimeters. Its compactness is a plus, measuring 2.8 inches in diameter and 4.8 inches in length. You can conveniently place it in your bag without the consumption of too much space. Weighing just 1.06 pounds, this lens is easy to maneuver to get the most satisfactory result.
TOP 10 KEY FEATURES:
| | |
| --- | --- |
| Focal Length: | 75 to 300mm |
| Maximum Aperture: | f/4 to 5.6 |
| Minimum Aperture: | f/32 to 45 |
| Lens Mount: | Canon EF |
| Format Compatibility: | Full-Frame |
| Angle of View: | 32° 11' to 8° 15' |
| Minimum Focus Distance: | 4.92' / 1.5 m |
| Maximum Magnification: | 0.25x |
| Optical Design: | 13 Elements in 9 Groups |
| Diaphragm Blades: | 7 |
Included in the box:
Canon EF 75-300mm f/4-5.6 III Lens
E-58 II 58mm Lens Cap
Lens Dust Cap E (Rear)
Payment & Security
Your payment information is processed securely. We do not store credit card details nor have access to your credit card information.
Canon EF 75-300mm f/4-5.6 III Telephoto Zoom Lens