Description
Dell WD19 180W Docking Station, Desert sand, sports an elegant look with USB-C & A Ports, Dual display port, HDMI, and a future-ready design!
Dell WD19 180W Docking Station is an indispensable device for multi-taskers. Those who believe life is short and the workload is high use it for multiple displays. This docking station powers your laptop, connects to a wired network and you get more than one display for your digital devices. It is also useful for USB devices that include keyboards, mouse, and others. You just need to plug in a single connector, and it is ready to use. The user does not require a high level of technical knowledge for using it.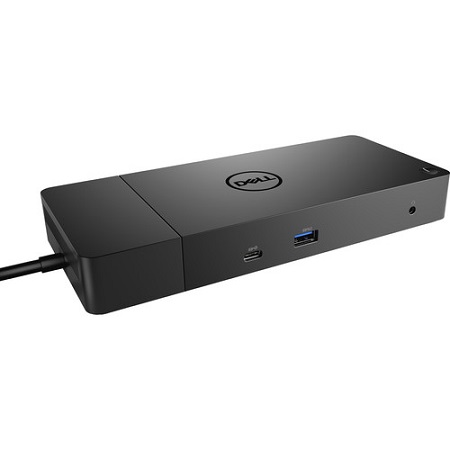 ---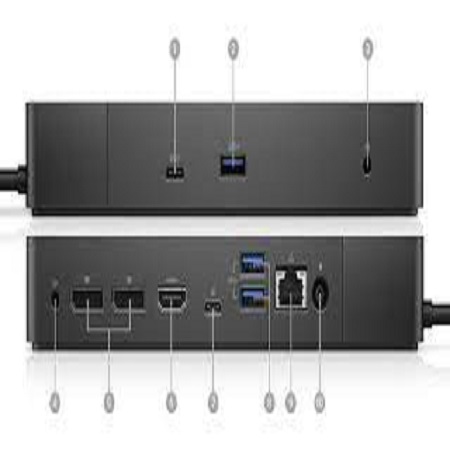 Our Take on the Dell WD19 180W Docking Station:
Dell WD19 180W Docking Station has secure manageability features. You do not need to worry about data safety. It has safety features like remote port disablement and Wake-on-LAN. Dell used its unique methods called mass address pass through with the device, which make your data more secure. Electronic waste has become a serious issue due to the high level of pollution. The manufacturing company has kept the noble cause of environment-protection in mind while innovating and manufacturing this product and made it a climate pledge-friendly product. Its endeavors to save the natural world have been awarded by sustainability certifications. In simple words, the product has less harmful chemicals and the company has used its innovation for its longer and multipurpose use. Electronic Product Environmental Assessment Tool (EPEAT) certified this product for its energy use and sustainability.
---
Dell WD19 180W Docking Station is easy to place behind your monitor or under your desk. It has a secure VESA mount that gives you complete flexibility on where do you want to place it. No more wastage of time in waiting for data transfer as it transfers data with up to a speed of 10 Gbps even when it is connected to all its devices. It is quite a remarkable data transfer speed. Based on your future requirements, you can swap modules with ease. In case of system upgrades, you do not need to look for other docking stations. It is future-ready so you mix and match with any devices and keep your work going on uninterrupted.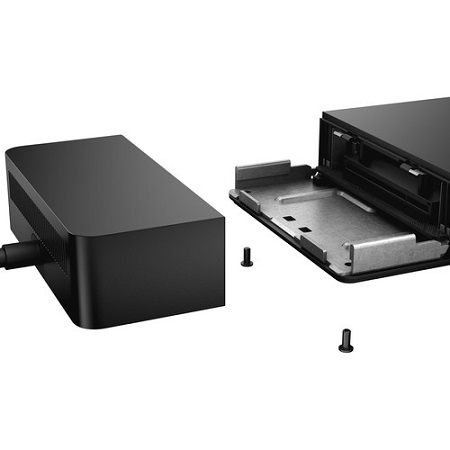 ---
Dell WD19 180W Docking Station comes with USB-C type connectivity that gives a universal use. Use it for keyboards, mouse, audio systems, video systems, charging slots, and for any other purpose. Whether you have a dual FHD or a single Quad HD monitor, it supports all. You do not need to reboot your docking station in case of updating the firmware. You keep working smoothly and seamlessly with the help of the Dell client command suite and Microsoft system center configuration manager.
TOP 10 KEY FEATURES:
| | |
| --- | --- |
| USB: | 2 x USB 3.1, USB 3.2 ,3 x USB 3.1, USB 3.2 Gen 1 |
| Ethernet: | 1 x RJ45 |
| Connection Type: | Integrated Cable |
| Interface Max Data Rate: | 10 Gb/s |
| Operating System Support: | Linux, Windows |
| Number of Displays Supported: | 2 |
| Cable Length: | 3.3' / 1.01 m |
| LED Indicator: | Activity, Power |
| Power Source: | AC Adapter |
| Power Port: | Barrel Connector |
Included in the box:
Dell WD19 USB Type-C Docking Station with 180W AC Adapter
Payment & Security
Your payment information is processed securely. We do not store credit card details nor have access to your credit card information.
Dell WD19 USB Type-C Docking Station with 180W AC Adapter