Description
Lowepro Powder Backpack 500 AW (Gray and Orange) is ideal for winter sports enthusiasts and adventure photographers because of its Multipurpose Design, Heavy-Duty Compression Straps & Camera Equipment Pouch!
Lowepro Powder Backpack 500 AW is a versatile backpack that can be variously used. The heavy-duty compression straps along the sides and the front are perfect for harnessing and conveniently carrying skis, snowboard, hiking poles, and other outdoor winter sports equipment. The backpack has separate compartments for camera equipment, laptop, and small belongings, keeping them all safe and secure from getting wet.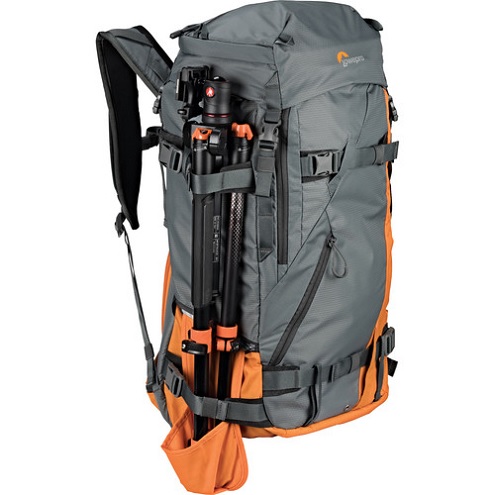 ---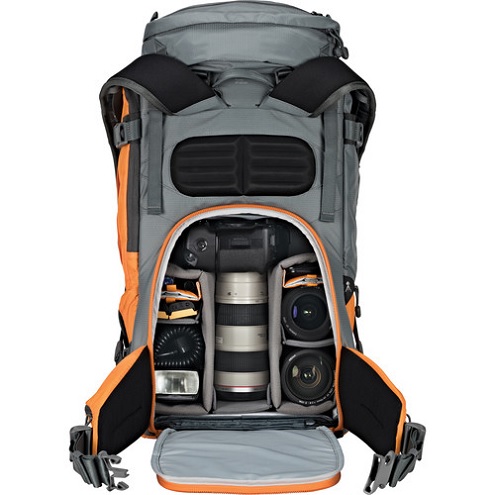 Our Take on the Lowepro Powder Backpack 500 AW:
Within the spacious main compartment, you can fit the removable 9x camera equipment pouch. There is an optional partition system that leaves the bottom part of the main compartment for the equipment pouch and the top part for smaller items such as batteries, memory cards, clothing, etc. There is a separate zipper for accessing the equipment pouch. The equipment pouch can hold multiple lenses for DSLRs and Mirrorless Cameras. Further, four toggle buttons keep the equipment pouch secure.
---
The main compartment is separated from the front pocket using a water-resistant barrier. This allows the front pocket to hold collapsible wet sports equipment. Further, the drain hole allows drainage so that the equipment dries quickly. The main compartment contains a dedicated section for a 15" laptop that can only be accessed through the top opening, keeping the laptop secure and dry.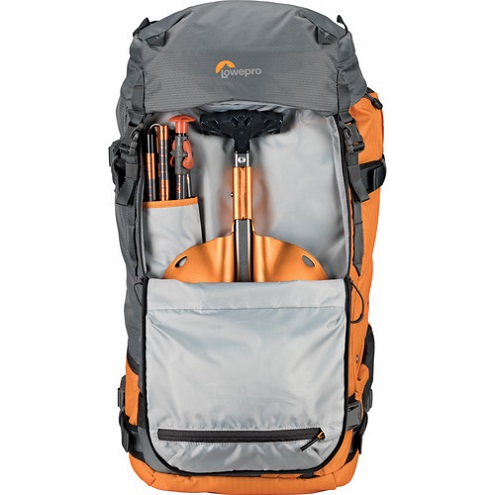 ---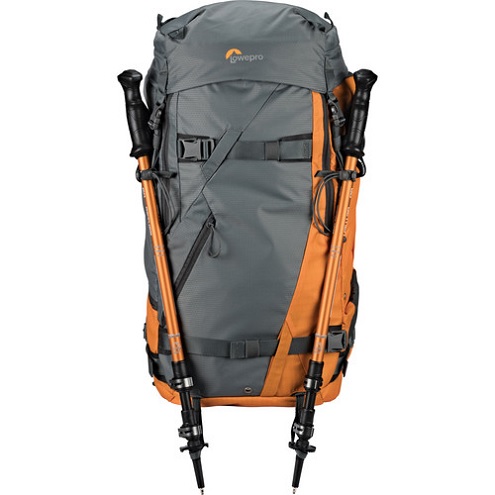 There is a hydration pack pocket with a sip-tube exit for easy water access while hiking a mountain. The backpack is easy to carry and highly portable. It has a haul handle for easy lifting and padded, adjustable shoulder straps, sternum strap, and waist belt for even weight distribution. It is made from weather-resistant and durable nylon fabric and comes with a seam-sealed cover that protects the belongings from heavy rain.
TOP 10 KEY FEATURES:
| | |
| --- | --- |
| Exterior Material: | Nylon |
| Water Resistance: | Rain Cover & Water-Resistant Material (Exterior) |
| Exterior Dimensions: | 12.2 x 25.59 x 10.24" |
| Maximum Interior Volume: | 55L |
| Laptop Compartment Capacity: | 15" Laptop Screensize |
| Portability Features: | Accessory Loops, Removable Interior Dividers, Tripod Holder |
| Weight Managemnet: | Even Distribution Through Straps, Handle, Sternum Strap, Waist Belt |
| Unique Features: | Camera Equipment Pouch |
| Security: | Toggle Buttons For Camera Equipment Pouch |
| Interior Weight: | 5.51 lb / 2.5 kg |
Included in the box:
Lowepro Powder Backpack 500 AW (Gray and Orange)
9 x Divider
Rain Cover
Payment & Security
Your payment information is processed securely. We do not store credit card details nor have access to your credit card information.
Lowepro LP36874-PWW Pro Runner Camera Backpack - Black