Description
Cisco 7965G IP Phone is ideal for an ever-evolving business environment because of its Regular Firmware Updates, Dynamic Call Features & High Quality of Service!
With Cisco 7965G IP Phone, you can enhance the communication experience because of high-fidelity wideband audio, intuitive, color, and backlit display, and improved navigation options. This Cisco device is an example of constant evolution in the Cisco telephony technology as it is an improvement over the previously released 7961G and 7961G-GE models.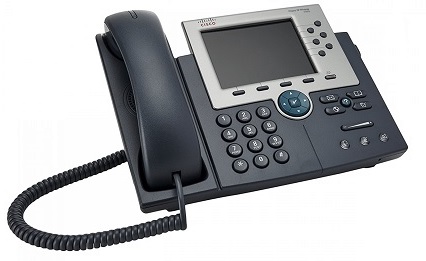 ---
Our Take on the Cisco 7965G IP Phone:
The 7965G is designed to keep up the pace of your business' growth, and therefore, it equips you for the ever-evolving work dynamics. The device comes with VoIP capabilities, a built-in web browser, and an integrated Gigabit Ethernet port. Further, it also incorporated the XML applications and receives regular software and firmware updates, keeping you always relevant.
---
The device can work with up to 6 telephone lines and sports all essential calling features such as Voice Mail, Caller ID, Call Forwarding, Call Transfer, Call Hold. Further, it possesses conferencing and remote access features, such as speakerphone and On-hook calling, that add convenience to the communication experience. The ECN voice feature reduces the interference to negligible levels, enhancing the call clarity and quality.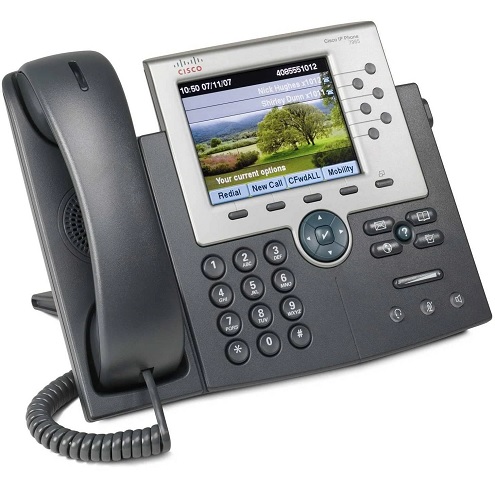 ---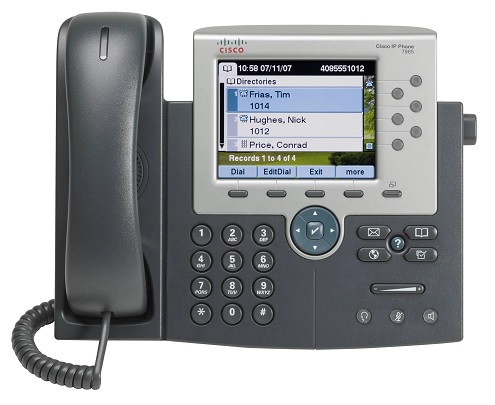 7965G IP phone is the true definition of unification, as it integrates video, voice, data, and mobile applications in a single device via fixed and mobile networks. This enables media-rich collaborative communication, which results in better understanding and more impressive presentations. Further, the device even gives the user a comparative advantage as it reduces transaction time and facilitates quick decision-making.
TOP 10 KEY FEATURES:
| | |
| --- | --- |
| Body Material: | ABS plastic |
| Call Services: | Voice Mail, Caller ID, Call Forwarding, Call Transfer, Call Hold |
| Dialer Type: | Keypad |
| Function Buttons: | Speakerphone button, directory button, navigator key, headset button, mute button |
| VoIP Protocols: | SCCP, SIP |
| Quality of Service: | IEEE 802.1Q (VLAN), IEEE 802.1p |
| Voice Features: | Echo cancellation (ECN) |
| Display Type: | LCD display - color |
| Display Size: | 5" |
| Connections: | Headset jack |
Included in the box:
Payment & Security
Your payment information is processed securely. We do not store credit card details nor have access to your credit card information.
New Cisco Systems CP-7965G-CCME New CP7965GCCME 2 days in CISCO IP PHONE 7965 Gigabit COLOR CPN WITH 1 CCME RTU ( Right-