Description
Nintendo Switch Neon Blue & Neon Red Edition is your ideal choice for optimum entertainment. It comes with a 32GB Internal Storage, Custom NVIDIA Tegra Processor, 6.2" 1280 x 720 Capacitive Touchscreen, 4.5 to 9 Hours of Battery Life, Outputs up to 1080p when Using Dock, Wirelessly Link up to Eight Systems, Play Console Games On-the-Go, Expandable Storage via MicroSD Cards, Supports amiibo Figures, among others.
Playing with family and friends at home is a piece of cake as the main unit stays on the Nintendo Switch Dock for an undemanding connection to your TV. You can lift Nintendo Switch from the dock to continue playing on-the-go, meaning that nothing can interrupt your fun. Through the sharing of Joy-Con, you can compete with other players while you are not in the vicinity of the TV. There is the tabletop mode made possible by the built-in kickstand, which helps with the propping up of the system. That is why it is one of the most coveted game consoles in the market presently.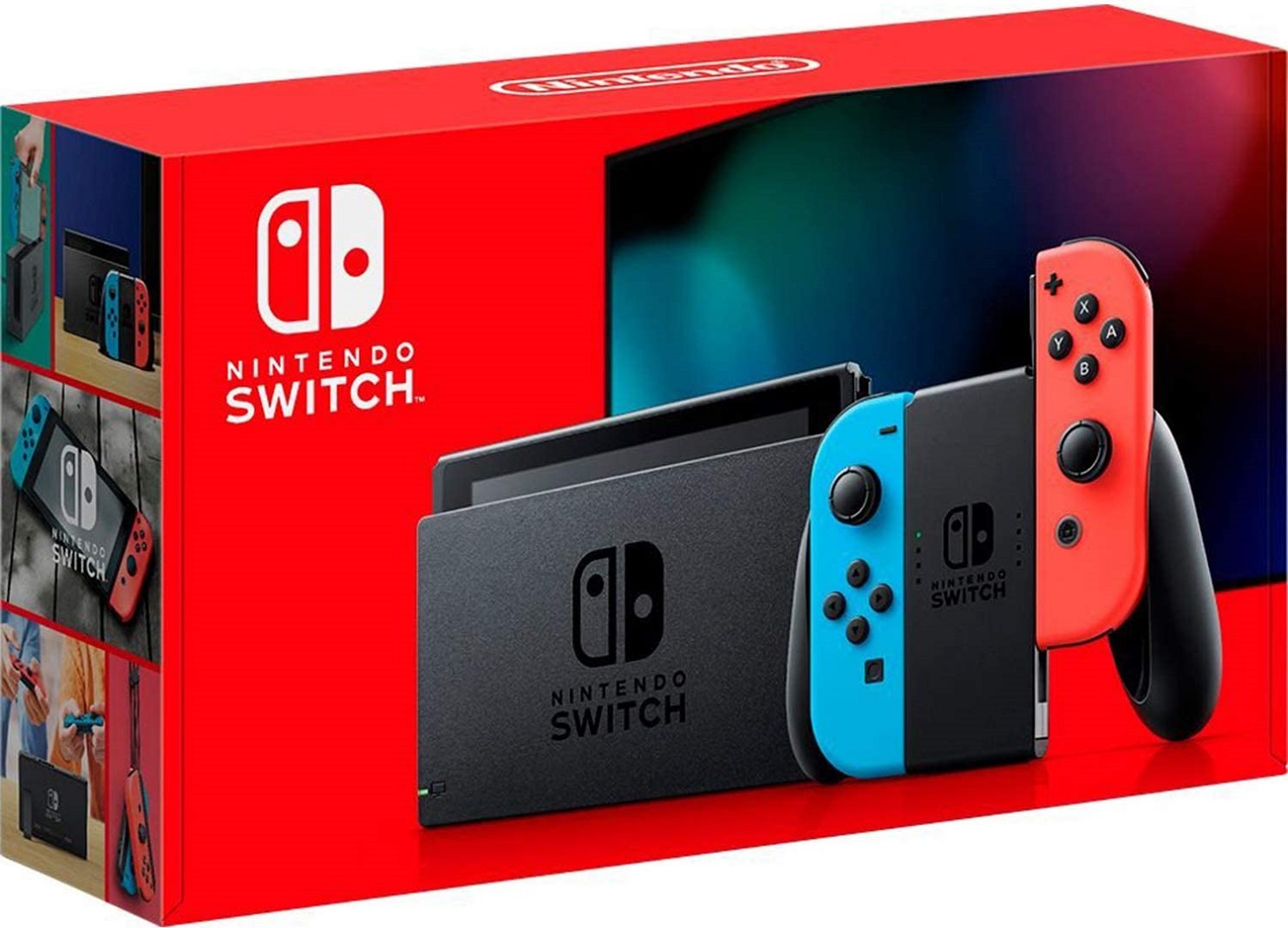 ---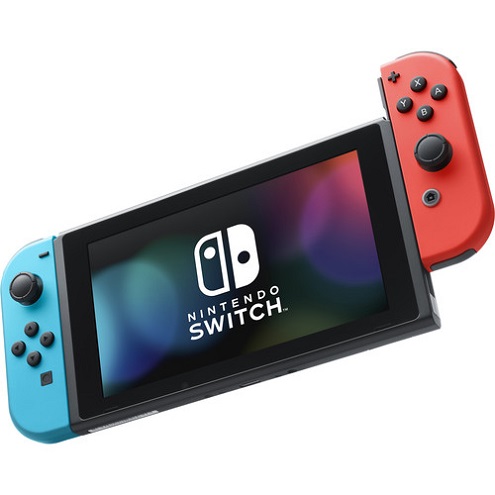 Our Take on the Nintendo Switch Neon Blue & Neon Red Edition:
The Nintendo Switch Neon Blue & Neon Red Edition boasts a beautiful color and design. It makes it possible for you to try new play styles by detaching the removable Joy-Con from its sides, and you are good to go. With the possibility of connecting eight Joy-Con controllers, you won't have issues engaging in different gameplay options. When you use the Joy-Con controllers together, they replicate conventional inputs of past platforms, including A/B/X/Y buttons and directional buttons (in place of a d-pad), dual two analog sticks, as well as four shoulder buttons.
---
Also, you can use each Joy-Con as a single controller to get the most satisfactory result. This method of playing places the Joy-Con (L) and Joy-Con (R) on the same layout. When you hold a Joy-Con horizontally, you can use the top SL and SR buttons as shoulder buttons. To make these buttons more prominent, you only need to attach the included Joy-Con Strap. You will find the Capture Button on the Joy-Con (L), which helps you to take screenshots of your gameplay. You can edit the screenshots to your expectations before posting them to your social media networks.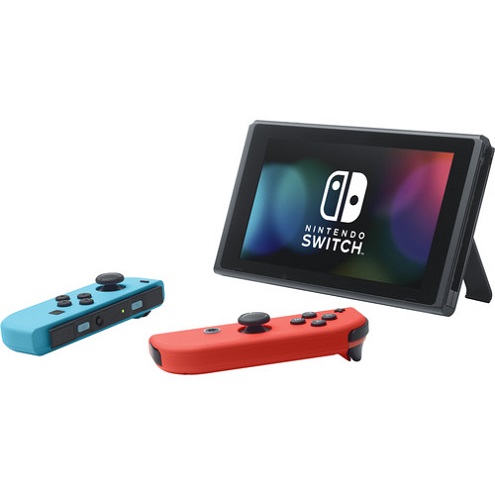 ---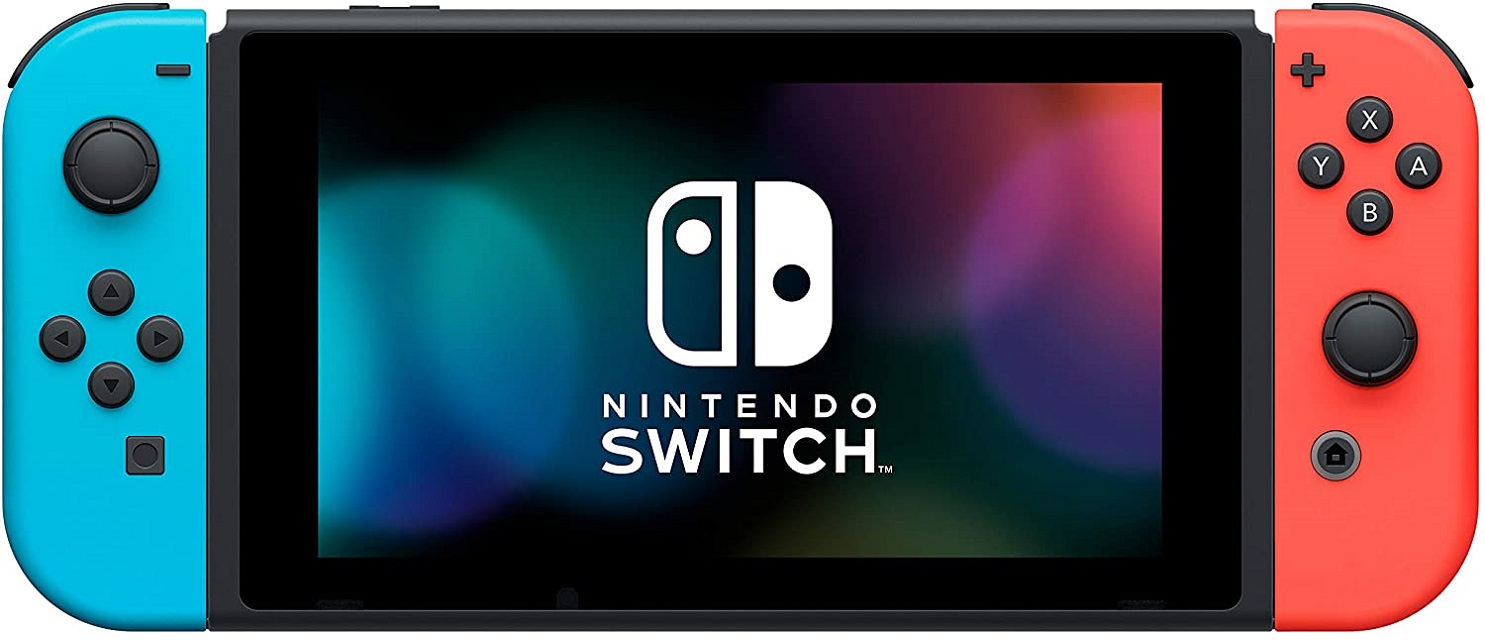 With its 6.2-inch capacitive multi-touch screen, which boasts a resolution of 1280 x 720, you can be confident of a flawless view at all times. If you are using it with the Nintendo Switch Dock, you should expect an output of up to 1080p via HDMI. It has a battery runtime of up to 9 hours but this depends on the game you are playing.
TOP 10 KEY FEATURES:
| | |
| --- | --- |
| Processor: | Custom NVIDIA Tegra |
| Storage: | 32 GB |
| Display: | HDMI |
| Output Via Dock: | Up to 1080p |
| Wi-Fi: | 802.11ac |
| Screen Size: | 6.2" |
| Resolution: | 1280 x 720 |
| Battery Runtime: | 4.5 to 9 Hours |
| Package Weight: | 3.46 pounds |
| Box Dimensions (HxWxD): | 3.8 x 7.9 x 13.8 |
Included in the box:
Nintendo Switch Neon Blue & Neon Red Edition
Switch Dock
Joy-Con (L)
Joy-Con (R)
2 x Joy-Con Strap
Joy-Con Grip
HDMI Cable
AC Adapter
Payment & Security
Your payment information is processed securely. We do not store credit card details nor have access to your credit card information.
Nintendo Switch with Neon Blue and Neon Red Joy-Con - HAC-001(-01)