Description
Tamron 18-400mm f/3.5-6.3 Di II VC HLD Lens for Canon EF makes use of a three-step extension design and maintains a compact form factor. Ranging from wide-angle to telephoto zoom range, the VC HLD Lens is compatible with DSLR cameras.
Weighing a mere 1.6 pounds, the Tamron 18-400mm f/3.5-6.3 Lens works with full-frame cameras. It pairs with APS-C cameras like the Canon EOS 7D Mark II, 80D, and the Nikon D500, D3000, D5000, and D7000 units. The lens barrel consists of polycarbonate that is resistant to moisture. The ultra-telephoto all-in-one zoom lens extends to 400 mm and has a 22.2X zoom ratio. It makes the lens suitable for travel and wildlife photography. The zoom ring consists of textured rubber and has markings at 400, 300, 200, 100, 70, 50, 35, and 18mm. This unit ships with a reversible lens hood, and front and rear lens caps.
---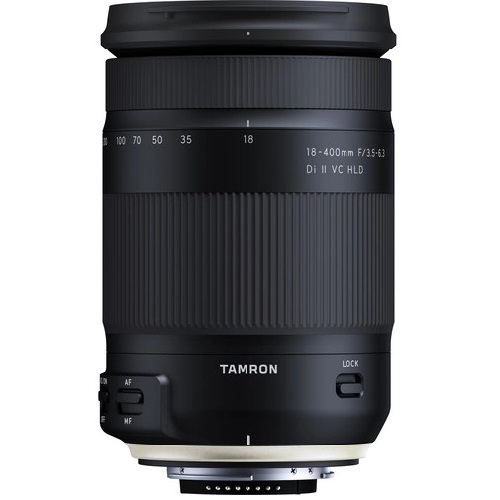 Our Take on the Tamron 18-400mm f/3.5-6.3 Di II VC HLD Lens for Canon EF:
The optical design of the Tamron 18-400mm f/3.5-6.3 Lens includes 16 elements arranged in 11 distinctive groups. Inclusion of the Low dispersion elements along with aspherical lens minimizes wide-range aberrations. The LD elements suppress color fringing and chromatic aberrations, improving contrast and color accuracy. Two molded and one hybrid glass elements help to decrease distortions and chromatic aberrations throughout the zoom range, delivering sharpness and accurate rendering. Apart from the lock switch, the lens barrel includes two more controls for VC On/off and AF/MF respectively. The diaphragm blades get driven and controlled through electronic signals, which enables their precise control.
---
A zoom lock mechanism prevents unwanted movement of the Tamron 18-400mm f/3.5-6.3 Lens barrel. Optional TAP-in Console offers a USB connection to a desktop or personal computer. It enables the user to upgrade firmware and personalize features and adjust VC and AF at per convenience. With an eye to outdoor shooting, the Tamron VC HLD Lens highlights moisture-resistant construction facilitating confident, worry-free operation under adverse weather conditions. Despite its compact form, the lens comes with a vibration compensation mechanism that lowers camera shake effects while shooting telephoto pictures. It corrects for up to 2.5 stops of camera shake, increasing opportunities for handheld shooting. The jitter-free stability of the optical viewfinder offers easy handling and faster framing of pictures.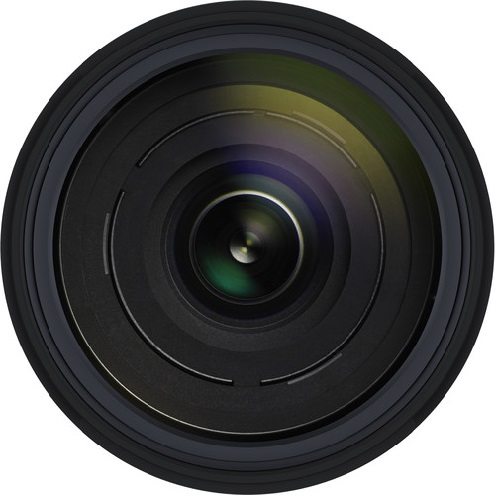 ---
AF drive of the Tamron 18-400mm f/3.5-6.3 Di II VC HLD Lens incorporates an HLD motor. The energy-efficient HLD motor generates exceptional torque, and adjusts rotation from high to low speed, enabling quiet and precise focusing performance. Thanks to its circular arc and compact shape, it occupies minimal space. Tamron lens feels well-balanced even when paired with Nikon or Canon APS-C format lenses. The unit comes with a sophisticated design that places a lot of impact on the lens's ease of use and functionality. If you are looking for a high-performance lens to shoot flora and fauna, landscapes, and portraits, Tamron Di II VC HLD Lens is an excellent choice. The all-in-one zoom lens allows photographers to capture everyday photos casually.
TOP 10 KEY FEATURES:
| | |
| --- | --- |
| Maximum Magnification: | 0.34x |
| Focal Length: | 18 to 400mm |
| The angle of view: | 75° 33' to 4° |
| Format Compatibility: | APS-C |
| Minimum Aperture: | f/22 to 40 |
| Maximum Aperture: | f/3.5 to 6.3 |
| Minimum Focus Distance: | 17.72" |
| Diaphragm Blades: | 7, Rounded |
| Optical Design: | 16 Elements in 11 Groups |
| Focus type: | Autofocus |
Included in the box:
Tamron 18-400mm f/3.5-6.3 Di II VC HLD Lens for Canon EF
Tamron SP Rear Lens Cap for Canon EOS Lenses
Petal-Shaped Lens Hood
Front Lens Cap
Payment & Security
Your payment information is processed securely. We do not store credit card details nor have access to your credit card information.
TAMRON high magnification zoom lens 18-400mm F3.5-6.3 DiII VC HLD for Canon APS-C only B028E(International Version - No